Our Tyre Brands
Choose from a range of tyres all stocked and sold in store:
Whatever your preference, we have honest and affordable tyres to suit all budgets and requirements.
We are happy to quote so ring Steve today for competitive low prices and to find out more. 01285 640282
Don't forget Grip Tyres offers customer vehicle collection and delivery for your convenience. So need to take time off work for your car!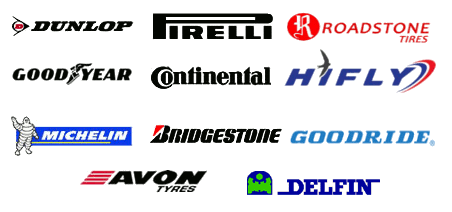 What Tyres Do You Need?
At Grip Tyres we want you to fully understand and be satisfied with your purchase, and with a little explanation as to what the different numbers mean, you will be able to quickly and easily to find out your tyre's size and requirements.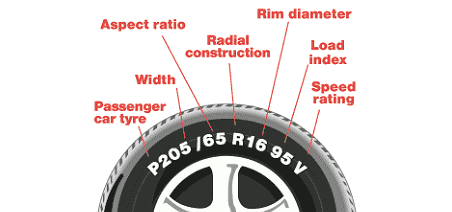 The Law - Replacing Your Tyres
You should always check your car weekly!
Tread Depth
By law, all cars and caravans must have a minimum of 1.6mm of tread in a continuous band throughout the central three-quarters of the whole tyre. However for optimum safety you should replace your tyres before they reach this stage.
If your tyres are worn below 1.6mm, they have become illegal and unsafe. Don't become an ILLEGAL DRIVER, think before you drive and replace your tyres immediately! If you are unsure whether your tyres need replacing come in for a FREE CHECK by our friendly tyre experts!
Lumps and Tears
If a tyre has any lump, bulge or tear this can be a good indication of separation or partial failure of its structure. If this is the case, the tyre cannot be used on the road and MUST be replaced.
Punctures
Where possible, Grip Tyres offers quick and cheap puncture repairs, in compliance with the British standard BSAUI59. Our tyre experts can even come to you!